Arsenal lost 3-4 to Liverpool at Emirates stadium on Sunday 14th August 2016.
Arsenal played their opening game of English Premier League 2016-17 season against Liverpool at their home ground Emirates stadium on Sunday evening 8.30 IST. After successful pre-season preparations, the young players have shown good promising displays to convince Arsenal manager to give a try against Liverpool in the absence of their 3 first choice centre-backs Per Mertesacker (out for 4 months), Gabriel (6 weeks), Koscielny (lack of match fitness) as well as striker Olivier Giroud, playmaker Ozil and Jack Wilshere.
Arsenal were confident about getting a positive start to 2016-17 season. And they have showed their confidence in the first half with a good dominating display. The hosts were 1-0 up in the 31st minute when Theo Walcott, who had a penalty missed a minute before, confidently slotted the ball to the far left corner from Iwobi's pass after exploiting the space behind Moreno. Arsenal denied Liverpool build up and everything looked under their control until Coutinho's magnificent free kick goal in the stoppage time.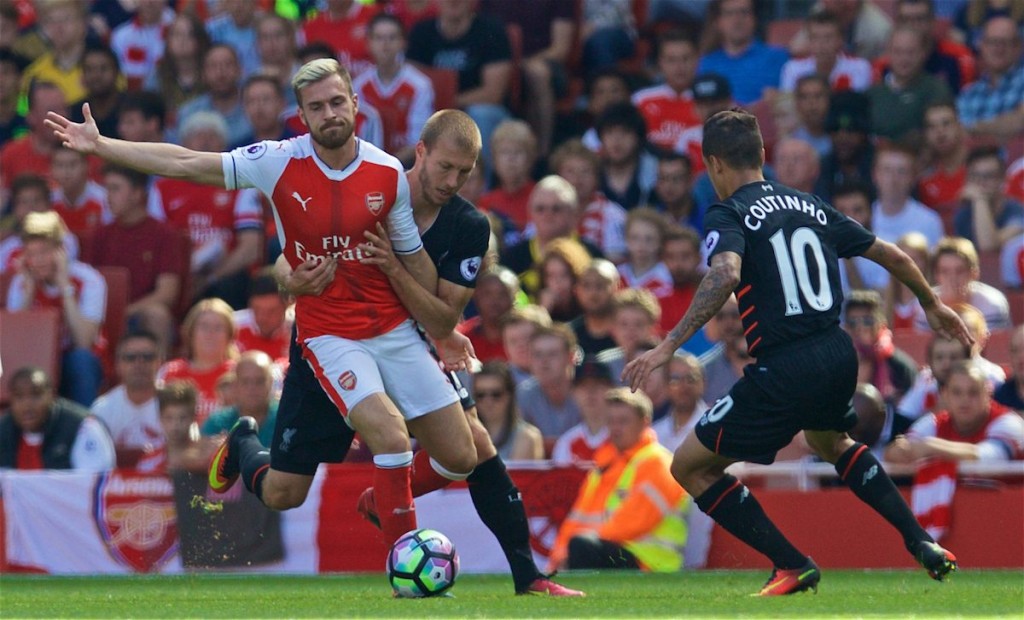 At this point of time Arsenal would have never anticipated such a big momentum shift in the second half. But the things went exactly the opposite of what Arsenal wanted. A deadly, clinical and high octane Liverpool started from exactly where Coutinho stopped. Goals early in the first 20 minutes of second half scored by Lallana, the second of Coutinho and Sadio Mane's brilliant solo goal put Klopp's team 1-4 up.
Liverpool took full advantage of Arsenal's inexperience at the back and midfield problems. Arsenal midfield were disjointed and transition from defense to attack did not look very smooth and interplay between Elneny, Coquelin and Ramsey was minimal at this time.
However Arsenal substitute Alex Oxlade Chamberlain's terrific solo goal deflected off Lovren lifted the team moral. Calum Chambers 75-the minute header from Santi Cazorla's free kick further reduced the deficit to just one goal 3-4. But Arsenal lacked energy to test a well prepared Liverpool side in the last 15 minutes of the game.
Emirates Stadium witnessed the trademark celebrations of Klopp, who is starting his first full season as The Reds manager. He said, "Scoring four goals is wonderful, conceding three is the opposite of that emotion, it was hard work but a deserved win in the end. It feels brilliant at the moment, actually."
"We were far away today from showing our whole quality," he added. "But we showed a few nice signs, a few not-so-nice signs."
However it was a disappointing weekend for the gunners, team and fans on the other hand. Arsenal manager Arsene Wenger shared his disappointment after the game. He said, Of course we are bitterly disappointed. It was a contrast between the two halves. We lost this game for many reasons and was one of them is [the psychological impact] of Liverpool making it 1-1 just before half-time. The second one is that physically we are not capable of maintaining the level, because not all the players have the same level of preparation. Maybe we lacked a bit of experience but if you look well at the goals, I don't think it was necessarily the inexperienced players that cost us the goals today.
After a disappointing start to the new season, Arsenal team and fans are eagerly waiting for a strong response. As we all know, the fate of league is not decided on one or two games, it is decided on the basis of consistency. A cycle 5 or 6 games decides the form and tempo of the teams. Hope we get into our rhythm as soon as possible.
Hope Liverpool game is good learning experience for our young centre-backs Rob Holding, who is on his way to become one of the best ball playing centre-backs in the world and Calum Chambers who has shown good aerial dominance in the first game against Liverpool. Arsenal youngsters need to learn how to handle pressure situations, our old legends used to demand more defensive support from midfield, young ones can also demand the same. Players can take small intervals from attacking play to cover their young co-players at the back.
Arsenal will play their next game against defending champions Leicester City away on 20th August 22.00 hrs IST.