When it comes to the team, signings are a great way to improve the squad, both in terms of quality and depth, and indeed, are becoming the most common way. However, fans of a club tend to derive greater joy when a product of the club's academy makes it through to the first team, and gains importance in it.
With this in mind, we will look at the Arsenal academy with a keen focus on its products and explain why its regarded as one of the best youth academies in world football.
The Glorious Past
Arsenal FC is one of the biggest and most historic clubs in England. After a golden period in the '30s the club went through a barren patch until winning the double in 1970/71 with likes of Mclintock, Rice, George and Graham. Although the club only won an FA cup after that the academy did produce two club legends in David O'Leary and the mercurial Liam Brady. The club then failed to win a league until 1988 with Michael Thomas famously clinching the title against Liverpool. As the '90s began Arsenal started to become a big player in England with its academy producing the likes of Adams, Merson, Parlour, Keown, Thomas and Rocastle. Since Arsene Wenger's arrival Arsenal have gone on to win trophies and put an emphasis on bringing on young players.
JERMAINE PENNANT // SENIOR DEBUT: 1999
Joining from Notts County for a fee of two million, Jermaine Pennant showed promise at first. Although he spent loan seasons away he was a part of the famous 'Invincibles' while also playing against Arsenal for Leeds. He notably scored a hat-trick in a 6-1 win over Southampton, which turned out to be his only goals for Arsenal. After many loan spells away from the club Pennant joined Birmingham. Pennant then moved to Liverpool and began to fulfil his potential while winning a Champions League medal and scoring a wonder goal against Chelsea at Anfield.
12 appearances for the senior squad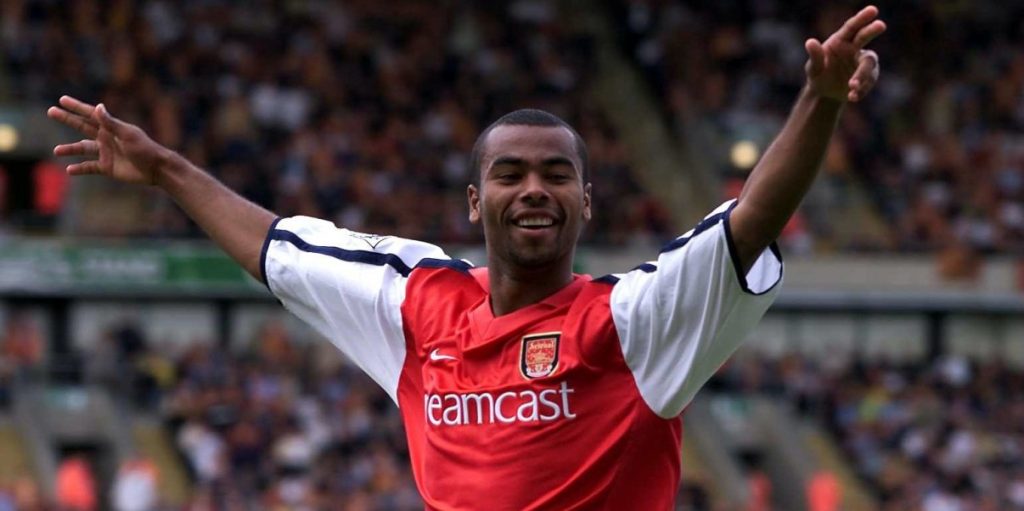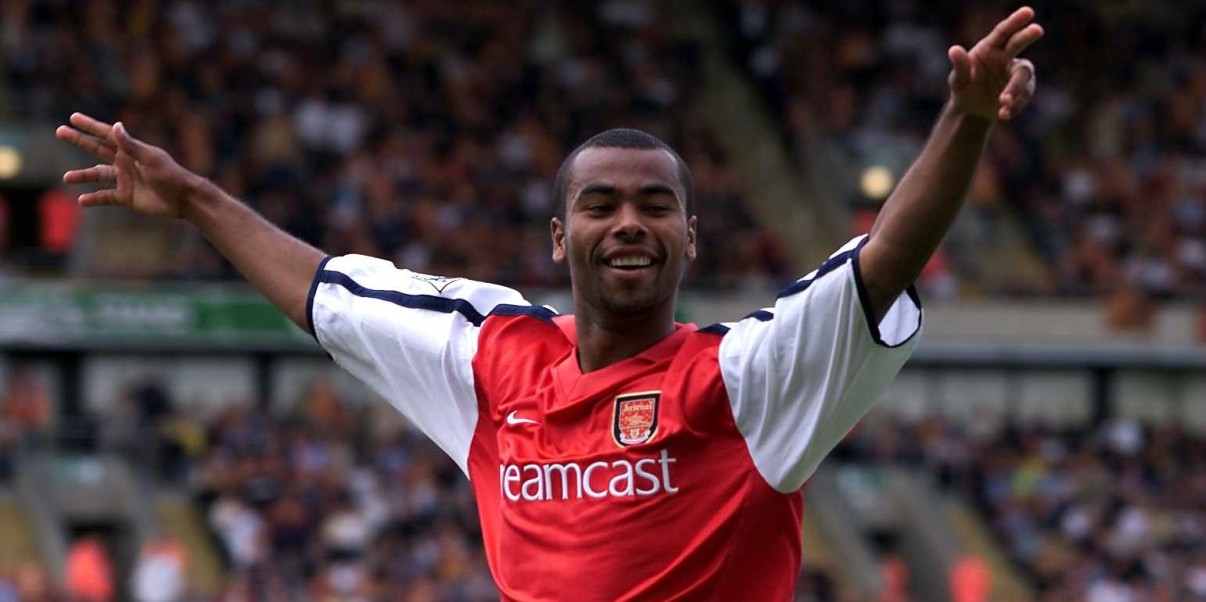 ASHLEY COLE // SENIOR DEBUT: 1999
Maligned and often forgotten by Arsenal fans, Ashley Cole is arguably the best product to come from Arsenal's academy. Originally a striker, Cole was honed to play as left back and it is this position into which he broke into Arsenal's first team at the turn of the millennium. He had the ability to go forward to both defend and attack, a rare commodity nowadays. A part of the 'Invincibles', Cole formed one of the best left sides of football with Henry and Pires. Internationally Cole would go onto gain a hundred caps for England and is arguably England's best ever left back.
156 appearances for the senior squad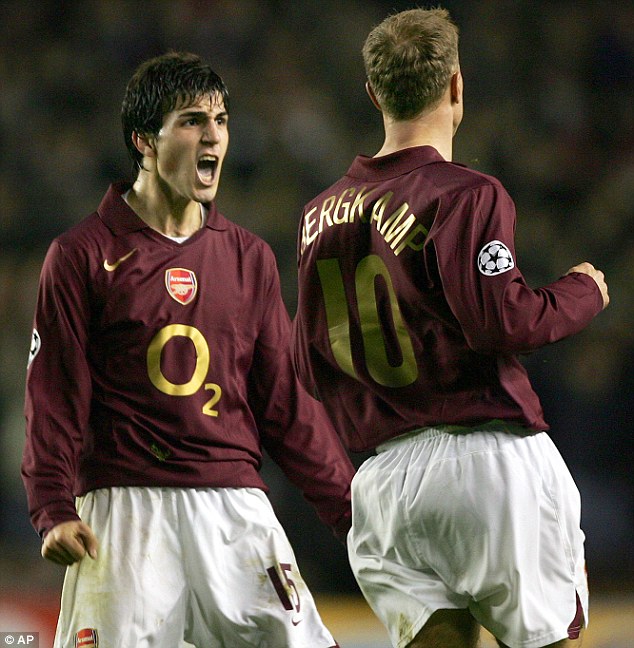 CESC FABREGAS // SENIOR DEBUT: 2003
Snatched from Barcelona at the age 16, he went on to make his debut against Rotherham to become Arsenal's youngest ever first team player at the time. He did not play much of a part in Arsenal's unbeaten season only making his break into the first team the following year following injuries to Viera and Edu. Even at such a young age Fabregas was blessed with tremendous technical skills and after the Invincibles era carried Arsenal many times. He was made Arsenal's captain following William Gallas' departure in 2008 and was a talisman during a major rebuilding period at Arsenal. Fabregas was key to Arsenal but also Spain and was a part of the infamous golden era which won two European championships and a World Cup. After struggling with injuries Fabregas switched to Barcelona, where although he won trophies never rediscovered the form he had at Arsenal and subsequently returned to England albeit to play for Chelsea in 2014.
212 appearances for the senior squad
SEBASTIAN LARSSON // SENIOR DEBUT: 2004
Discovered in his native Sweden while playing for his hometown team Eskilstuna in 2001, Larsson was quickly brought over to the Arsenal reserves. After initial years in the reserves, Larsson made his debut for Arsenal against Manchester City, coming on as a left back. Larsson, however carved a role for himself as a smart midfielder who excels at dead ball situations. After a loan spell a Birmingham, Larsson made the move permanent a year later. He became a stand out performer for Birmingham and ironically was a part of the team that beat Arsenal in the 2011 League Cup final. With Birmingham's relegation from the premiership, he joined Sunderland and once again became one of the league's best from free kicks.
3 appearances for the senior squad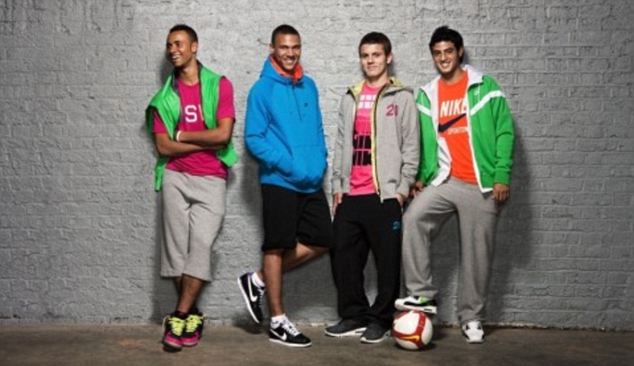 The Soaring Present

KIERAN GIBBS // SENIOR DEBUT: 2007
An English player that seems to go under the radar, Kieran Gibbs has come a long way. At the beginning of his career Gibbs faced some tough games especially against Man United in the Champions League. Following the departure of Gael Clichy, Gibbs became the starting left back for the 2011/12 season. Although Gibbs has the tools to be Arsenal's permanent left back, injuries and Monreal's resurgence in form has seen him become the forgotten man at Arsenal. He still, however has the potential and years ahead of him to regain his spot.
127 appearances for the senior squad
JACK WILSHERE // SENIOR DEBUT: 2008
Having been at Arsenal since the age of nine, Wilshere made his first start for Arsenal at the age of 16. After a loan spell with Bolton in 2010 Wilshere broke into the first team and was an instant hit. Arguably one of the best English prospects in recent memory ,Wilshere has been regarded by the Barcelona legend, Xavi as being very talented, so much so that "he does not seem English". Wilshere's ability to pass and play around the box has seen him become integral to the Arsenal team but also placed him in the England squad.  If Wilshere can stay fit he is almost certain to be a future Arsenal captain and a mainstay in the England team, but that is a very big if. His recent loan to Bournemouth is expected to guarantee more playing time and help him develop as a player.
105 appearances for the senior squad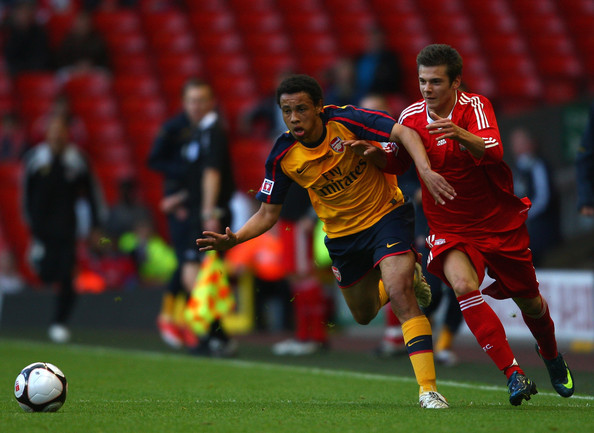 FRANCIS COQUELIN // SENIOR DEBUT: 2009
Out of the players on this list, Francis Coquelin's career is completely different. Having been at Arsenal since he was 17, Coquelin has spent loan spells at Freiburg, Lorient and recently Charlton. Coquelin was called back from Charlton, however due to injuries within the squad. He has since provided a toughness and defensive presence in the Arsenal squad. He is now, arguably one of Arsenal's most important players and is probably one of the first names on the team sheet.
71 appearances for the senior squad
WOJCIECH SCZCESNY // SENIOR DEBUT: 2009
The tall Pole has had a slightly strange Arsenal career thus far. Having been made Arsenal's first team goalie as of 2009/10 season, Szczesny's career has regressed. In his initial year Szczesny was a promising young shot stopper and naturally progressed to be Poland's first choice keeper. Aside from a calamitous incident in the 2011 League Cup final, he progressed and notably won golden gloves in the 2013/14 season. Since then, however Szczesny has taken a step back in his development with a series of poor performances. He is currently on loan at Roma for the second year running and playing for a side contending to win the Serie A title.
132 appearances for the senior squad
A Promising Future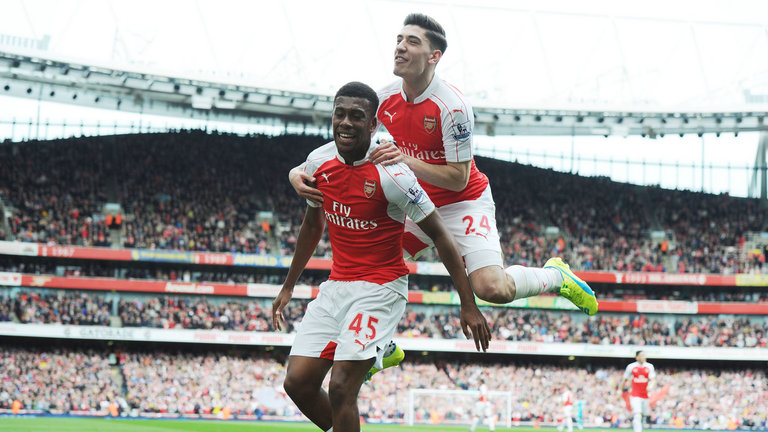 In recent years, Arsenal's academy has seen a concerted effort to produce talent. Arsene Wenger has made an effort to restructure Arsenal's youth academy and we are starting to see some young talented players coming through. Notable talents coming through are Dan Crowley and Chuba Akpom. Crowley has recently been compared to Jack Wilshere- he is small technical and can play wide or through the middle. Akpom is obviously a different type of player, he has the size and build to be a good striker. Moreover, he has good pace and seems adept at moving off the ball. Such is Akpom's potential that some questioned why he had been sent out on loan, especially in light of Arsenal's striker problems last year. However, there has been a new arrival into the youth set up- Jeff Raine Adelaide. A tall and technical player, the Frenchman earned rave reviews during Arsenal's Emirate cup tournament and is regarded as being "something special" by Wenger.
Another player who is thought of very highly is Gedion Zelalem. Discovered playing in America, he was very impressive during Arsenal's 2013 preseason tour of Asia. An incredibly clever passer of the ball, he can thread the ball through the eye of a needle and is impressing with his performances for his current loan club Rangers.
Other youngsters include Kaylen Hinds, Ainsely-Maitland Niles, Matt Macey, Chris Wilock and Stephy Mavididi , the latter who has scored five goals in five games for the U21 side. Central midfielders Ben Sheaf and Krsytina Bielik have also been impressive and played in an U21 team that sits third and a UEFA Youth League team that is unbeaten so far.
It is also interesting to note that Serge Gnabry put on a praiseworthy performance at the recently concluded Olympics in Brazil and ended up being the joint top goalscorer at the tournament. He has since returned home, making the move to the Bundesliga and is expected to feature in VFB Stuttgart's first team.
But for this feature, we shall be focusing on two key Arsenal products, who in recent times have made an immense impact on the team and will continue to get better.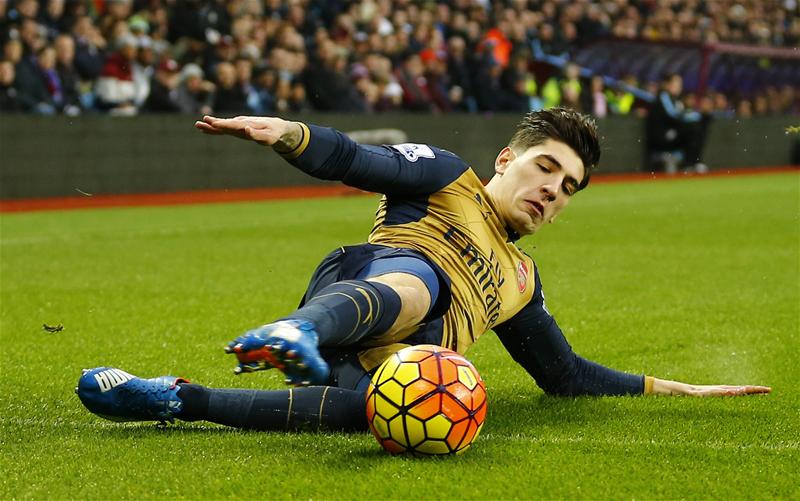 HECTOR BELLERIN // SENIOR DEBUT: 2014
Brought in from Barcelona at the age of 16 as a winger, Bellerin has established himself as the starting right back for Arsenal. Having been on loan at Watford for 2013/14 season Bellerin returned to the U21 squad for the beginning of the 2014/15 season. With an injury to Debuchy, however Bellerin was placed into the first team and has not looked back. Although his debut against Borussia Dortmund was not the best, Bellerin has made a vast improvement to become one of the most improved and possibly one of the best right backs in the league.
Bellerin's ability to get forward and have a massive impact in the final third is has drawn comparisons with Jordi Alba. With Bellerin's jet fighter-like pace (he has already beaten Theo Walcott's club record for pace), his ability to whip in a brilliant ball from the by-line or from deep, excellent technical ability and a vicious shot from outside of the box, Bellerin has rightfully been compared to Alba. Much like Kieran Gibbs on the left, Bellerin has the ability to pop up in all areas of the pitch either in an attacking role or defending a counter-attack.
Despite his tender age, Bellerin slots right into the tactical framework of Arsene Wenger's Arsenal.  Over recent seasons, Wenger's preference in wide players have been those that give him two options; the ability to stay out wide and put in a low cross from the end line, or cut into central areas where they can look to get a sniff at goal or slot a ball across the face of goal from closer in.  With those types of players in mind, the progression of Kieran Gibbs at left back has never been in danger of stagnating, and you could expect the same for Bellerin.
With Bellerin's multi-faceted ability going forward, he offers the perfect option to overlap the right-winger and continue forward and look to deliver a delicious ball, or to come in diagonally and look to take a crack at goal from outside of the box.  Mathieu Debuchy is certainly a better defensive option, but Bellerin (at least for me) has the potential to turn into a player incredibly similar to former left-back Ashley Cole.
If the Spaniard does have a weakness (and yes, he has a few), it's his inexperience.  When you're a young player, no amount of time at the training ground and sitting on the bench will ever help you progress as a footballer.  Most experienced players will see danger and adjust accordingly, but when you're young and still learning your trade, you will still struggle at times to read the game and adapt – a skill that comes through time on and off the pitch.
Another weakness, despite the ability to rectify it over time, is his stature.  While his height (5'10-5'11) is just about what you'd expect from a modern right-back who is forward thinking, his physical build is lacking.  Part of what made Bacary Sagna and currently Mathieu Debuchy so good at their roles is that they could call on their physical strength to overpower smaller wingers off the ball to regain possession.  Bellerin may be a speedster, but do you really see him out-muscling someone like Ronaldo or Messi?  Thankfully, it does not take much to become bigger physically, and significant time in the weight room to add an additional 10-15 pounds of muscle would easily solve the problem.
58 appearances for the senior squad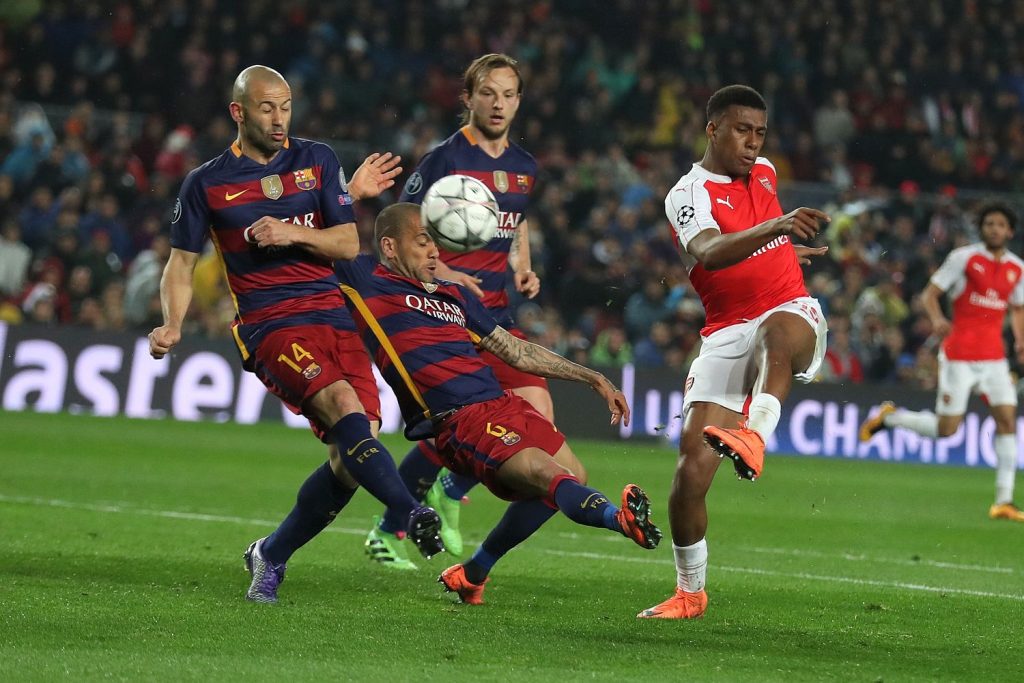 ALEX IWOBI // SENIOR DEBUT: 2015
Born in Lagos, Alex Iwobi is the nephew of Bolton and Nigeria legend Jay Jay Okocha so there is a clear footballing pedigree in his family. Born in 1996, his parents are Nigerians who moved to England. Iwobi has represented England at the U-16, U-17 and U-18 level but opted to represent his country of birth, Nigeria, in international football. He joined the Arsenal academy when in primary school aged 8 and rose through the ranks. He gained recognition when he was selected to travel with the first team for the friendly tournament in Singapore in July 2015 before netting in the Emirates Cup against Lyon in August, the same year.
Renowned for his versatility, Iwobi has played for the Arsenal youth teams in a variety of positions ranging from full back to centre forward. Although predominantly a winger, much of Iwobi's success last season came in an attacking midfield role behind the striker. His main attributes are his power and trickery – both of which have seen him draw plaudits from many within the Arsenal camp. The Nigerian-born prospect has impressive physicality for a 19-year-old still in his early years of development.
Arsene Wenger is known to like players who are capable of playing in a variety of positions which was an important factor in Iwobi being handed regular opportunities to train with the first team and play in important games. Iwobi is known for his pace and technical skill as well as his dribbling which makes him potent on either the flanks or through the middle as a playmaker. He also has great vision to pick out passes with confidence and an enthusiastic approach to all the games he plays. His positioning and ability to get into attacking positions is another strength of his. He has also shown his ability to deal with pressure starting for Arsenal alongside stars like Mesut Ozil and Alexis Sanchez against world class teams like Barcelona and Everton. His tireless work rate is also something Wenger rates highly as he can be frequently seen carrying out his defensive duties. Efficient in possession and taking on opponents with aplomb, Iwobi has an eye for the goal and composure in front of it. His ability to deal with pressure and ability to maintain composure is admirable for a 19 year old.
 Iwobi's style of play also suits the Arsenal game as he is quite good at linking up with the midfielders and forwards as well as drifting in centrally to play a bigger role in playmaking. He is effective on both wings which is also an important tactic that Wenger adopts. He brings energy and enthusiasm to an Arsenal side which has sometimes been accused of being too lethargic in possession and playing negative football.
While quick, Iwobi is of a light frame which leads to the question of his ability to deal with the rugby-esque physicality of teams like Stoke City. The Premier League is also very physically demanding. However Iwobi is only 19 and has time on his side to add on muscle as how Mesut Ozil did when he struggled to deal with the physicality of the Premier League in his initial years for Arsenal. Iwobi also needs to work on his strike rate, but this is possibly a result of being played in a variety of positions. His lack of goals leads to the question of where his best position actually is. He is also sometimes indecisive with his passing and lingers on the ball.
14 appearances for the senior squad