" Nammal enthukondu thottu ? "  – Everton vs Arsenal Match Review
The above is a scene from the cult hit Malayalam movie Sandesham. In response to a party member's question regarding why they lost the election, the leader provides a deliberately convoluted explanation.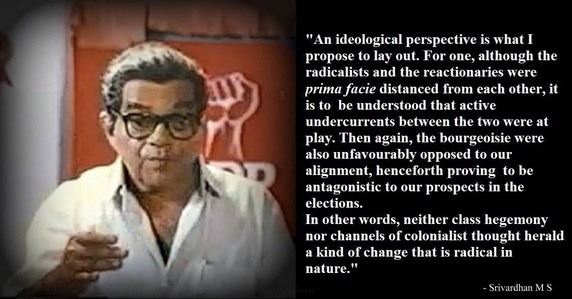 As evident from the translation posted above for our Gunners from outside the state, the explanation is neither here nor there and is a vague attempt at citing the supposedly theoretical 'causes' behind the actually witnessed 'effects'. A phenomena common among Gunners on social media after almost every devastating or unexpected loss.
Some turn to the usual list of causes, such as recurring injury problems, absence of a winning mentality, lack of experience against more physical teams etc. While others echo cries of 'Same old Arsenal' and 'the season has been lost' after just one particular night to forget.
In this article however, we shall try to pinpoint 5 actual causes behind this particular defeat and explain why, for the majority of the match, Everton appeared to be the winning team. Especially since the latter is a rarer occurrence. As Arsenal fans, we are more used to defeats where we remain in clear control of the game, only to lose the plot in those dying minutes. However, last night was different and in spite of the possession or other attacking stats, if any team appeared to know what they were doing, it certainly wasn't Arsenal.
Last night was one of the worst performances of the season so far and only our 2nd defeat in the league, so naturally, it makes us even more angry. All our players looked off and the whole match was kind of odd without any enjoyable moments. We didn't deserve more and yet still could have easily won it or at least drawn.
So, having been unbeaten in the Premier League since losing on the opening day to Liverpool, our run came to an end at the hands of another Merseyside team at Goodison Park last night.
Nammal Enthukondu Thottu / Why did we lose
The Martyr that went down fighting – Laurent Koscieny
By some considerable distance, Arsenal's best player on Tuesday was Laurent Koscielny. The towering Frenchman was a rock steady presence at the heart of the defence, handled Romelu Lukaku, a notoriously difficult customer, consummately, and displayed a calmness and self-assuredness in a volatile atmosphere that few of his teammates could match.
Koscielny made five interceptions, a massive nine clearances, won 71% of his aerial duels, winning 10 headers in total, and added a block for good measure. That is an incredible stat line for any central defender.
Moreover, without Shkodran Mustafi alongside him, something that hurt the defence on the whole (I will get to this later), Koscielny played alongside Gabriel Paulista, someone who, although he has played with before, has a far less experience next to the Gunners' captain.
Communication was a major issue for both goals, especially the first, and both Koscielny and Gabriel must shoulder some of the blame for that. However, on the whole, Koscielny is far from the blame for this disappointing loss.
The Lone Wolf the rest of the pack failed to catch up with – Alexis Sanchez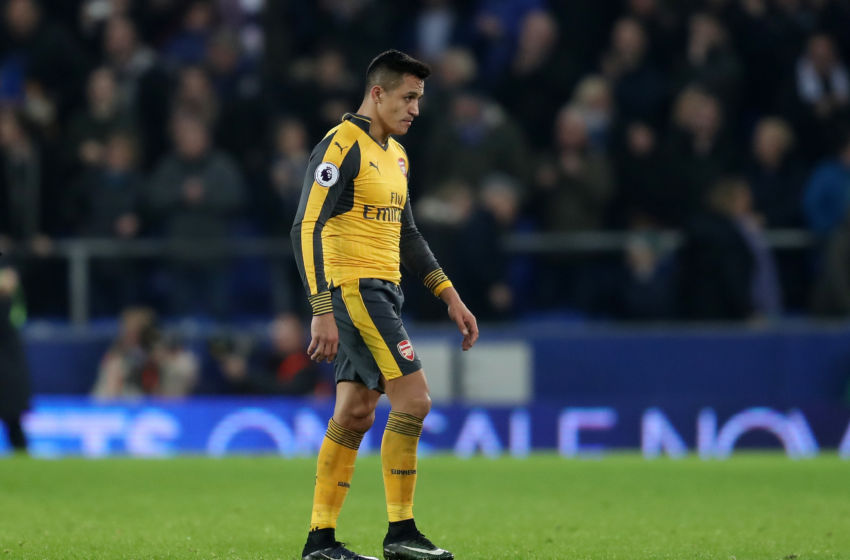 Alexis Sanchez was obviously frustrated with his teammates' approach. Playing as the lone striker, Sanchez was his effervescent self, continually hounding and harassing the Everton defence. The only problem was he was ploughing the furrow alone and it was easy for the Toffees to simply pass around the rampaging Chilean.
There were numerous occasions where Sanchez would chase down, see the ball pass him by, turn and see his teammates all dropping deep, unwilling to match his relentless pressing, and raise his hands in frustration. Such frustrations were vindicated as Arsenal lost control of the game thanks to the ever-decreasing intensity of their pressing as the game progressed.
The Hero missing from the battlefield – Shkodran Mustafi
There is a reason that I have been so critical of Wenger's continual rotation of Petr Cech and David Ospina this season. While the two goals that Everton scored had nothing to do with the trust and the relationship between goalkeeper and defence, it had everything to do with communication, something that only comes with repetition.
For Everton's first goal, both Gabriel Paulista and Laurent Koscielny were unaware of the late run of Seamus Coleman into the heart of the Arsenal penalty area. Neither picked him up or communicated to others to pick him up and the right-back glanced a completely free header into the bottom corner.
The game winner came through similar lapses in communication. Arsenal employ a zonal marking system. As such, the opposition has a key advantage in leaping for a high ball as they have a run-up, as Ashley Williams exploited. Consequently, it is crucial that someone gets in front of the run, blocks their progress and stalls their momentum.
With Everton players crowding out in the midfield and leaving Ozil, Xhaka and Coquelin devoid of space, Arsenal also missed Mustafi's ability to deliver long penetrating balls from a high defensive line. Whereas Gabriel or Koscieny would prefer clearing the ball away or passing it to either wingbacks or defensive midfielders, Mustafi is the ace of building up an attacking move from the back and his long balls that cut through the opposition midfield to find our forwards, could have made the impact necessary to win the game last night.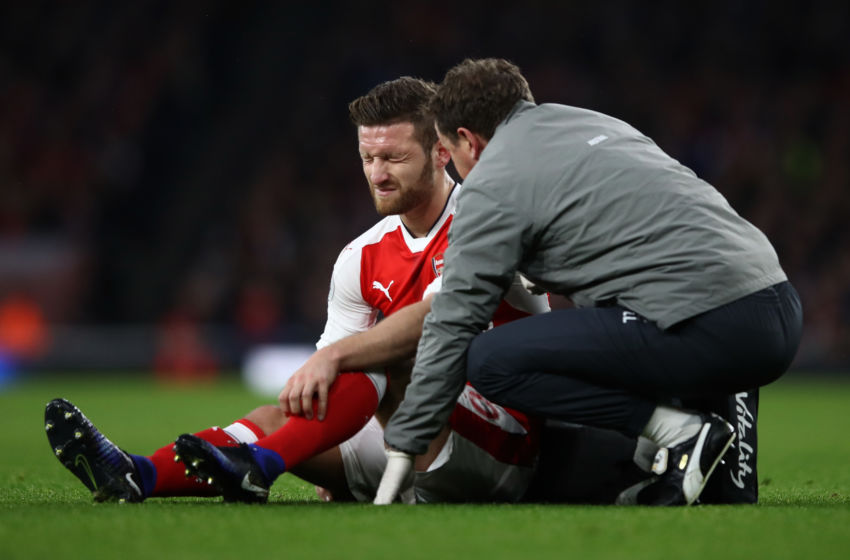 The Maestro's most forgettable moments – Mesut Ozil
Mesut Ozil has been in sensational form of late. His nine goals this season set him up for his best goalscoring year since moving to North London, he was instrumental in Arsenal's 3-1 win over Stoke City at the weekend and is spearheading, along with his Chilean teammate, a genuine Gunners' title challenge.
All that came crashing down to earth, though, on Tuesday. While the fingers will point at the German for Ashley Williams' goal – a criticism that is slightly unfair given that he is in a zonal marking system, though while he was not the problem, he did not exactly provide a solution either – it was his overall display that was so lacking.
He missed two good chances, one in particular skewing a shot over the bar from an Alexis Sanchez cutback, lost the ball on numerous occasions and lacked the same ruthless, cutting edge, both in his passing, his creativity and his finishing that has served him so well this season
The Mentor who needs to tutor new lessons – Arsene Wenger
The first 20 minutes of Tuesday night's match gave a lot for Arsenal and Arsene Wenger to cheer. They were able to play a high line successfully without Shkodran Mutafi, suffocated the life out of an already struggling Everton side and took advantage of the space that their high-intensity approach created, taking the lead through a deflected Alexis Sanchez free kick.
However, after the goal, Everton pushed a little higher up the pitch, Arsenal became drastically complacent, especially in possession, and allowed the hosts to grow into the game. The equaliser just before halftime was well on its way and the second half, as a result, was a much more even affair.
Ultimately, the Gunners became far too conservative in their approach. They slacked off in their pressing in Everton's half, Granit Xhaka and Francis Coquelin were increasingly happy to drop deeper and deeper and consequently, Arsenal's early control of the game loosened. This is a tough loss for this squad and Wenger must continue to be aggressive in his approach throghout the festive period.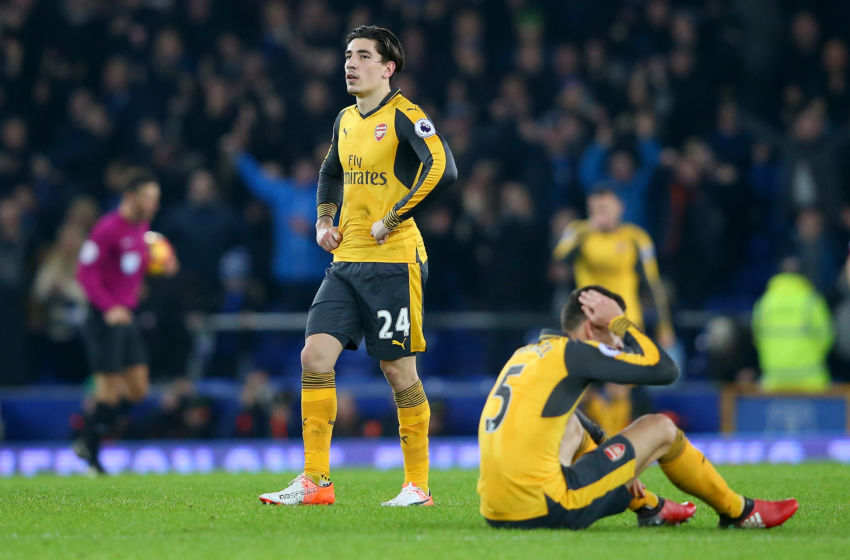 Is all hope lost ?
After the match, Arsene Wenger was critical of Clattenburg, particularly for the corner decision, but said ultimately it was something his team have to take stock of:
I think we have to look at ourselves. We lost the game because I feel we started well and after that maybe we lost a bit of urgency because we were a bit too comfortable and then Everton made it very physical. Overall, I believe that from then on it disturbed our game and we created less flow going forward.

In the end, we unfortunately didn't take our chances or two. We didn't create too many but we had clear-cut chances in the game that we didn't take. After that you can be caught away from home on a corner like that.
He also pointed out that it's the first time we've lost away from home in the league since that infamous trip to Old Trafford last February. It's also the first defeat in the league since August 14th, and while it's disappointing to lose – especially when we really didn't do ourselves justice, that's worth bearing in mind.
As ever when we have a bad result the people who have nothing to say when things are going well are first out of the blocks to start the complaining. There's always more to say about a defeat, there's more to talk about, that's natural, but it gives rise to people who believe the only viable method of football discourse is abuse and name-calling.
I saw some post-match pieces suggesting that this is the defeat which would derail our season, our first loss in four months!
Of course it's painful to lose a game, and the lack of performance was a worry. The big players didn't really do it last night, and the supporting cast weren't much better. There aren't really any positives to take from the way we played, but a little perspective is needed on the basis of what we've seen this season.
For me, we were always going to lose a game at some point: the big test of this team will be how we react to it. How quickly can we regroup and get going on. That's where we'll get the real measure of the quality and maturity that have been lauded since that opening day, and that's how we can make a judgement as to whether or not we're going to be title contenders or not.
Facing Manchester City away is going to be a massive challenge now, but nobody said winning the league should be easy. Defeat stings, now let's see how we deal with it.
COYG !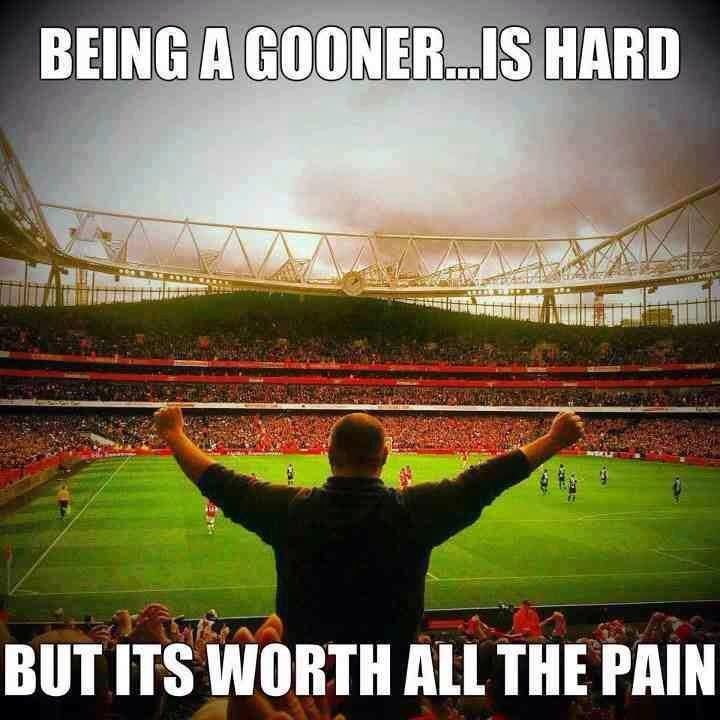 Fanspeak – Our new section on ordinary, everyday fans and extraordinary opinions
Our new section aims to feel the pulse of Gooners from Kerala . In this week's feature, Sulthu offers his insights on the game

It is true that Kos & Gab do not gel as partners. Both are front footed defenders, highly eager to intercept play leaving holes in behind, that said, the main reason why our defenses failed were due to the lack of tracking back by wingers, the press implemented was dis-jointed, when Sanchez hounded their centre-backs, either Theo, Ox or Ozil stood off so they can play out from the back. After gaining the 1 goal lead, the wise thing would be to drop off and let them build, trust our midfield pair to make necessary to interceptions so as to spring counterattacks, but when we did manage to pull this off, the team's speed of thought were not upto the mark, picking out the wrong runs or the final balls were not reaching the intended target.
Everton were only a threat down the wings because when our wingers were not covering our full backs, either Nacho or Hector was exposed in a 2 vs 1 situation, and there sets of a chain of holes in our formation, which arises as a result of Coq going out of his position to provide cover for wingbacks leaving behind spaces in centre of midfield for Everton midfielders to utilize, and they did so well with one-touch triangles. When I look back at the goal, Nacho has to mark 2 players at the far post, we have seen this tactic for long, maybe the onus falls on Xhaka or Coq to track the runners into the box since Gab has a tendency to go solo whenever crosses are flung into the box.
We did not click as a team due to lack of Sanchez involvement in the build up, this gives Ozil holes that Sanchez leaves so that the German can make runs into. Theo and Ox unbalance our team when they are both occupying either wings, along with Alexis, the risk taking rises exponentially. We needed a wide playmaker in the form of Iwobi, who would have kept things ticking in midfield. Theo had a very low involvement in the game.
Despite all the tactics, we had chances on counters where better decision making was required. I would say we were rather very kind last night.