In the wake of unprecedented heavy rainfall that has led to severe floods and landslides in almost all districts of Kerala, AKSC has appealed to its members and friends from all over the world to join hands and contribute towards the Kerala Chief Minister's flood relief fund.

186 people have died in the state this monsoon and there have been 211 cases of landslides, according to state government data. At several places in the mountainous Idukki district alone, roads have turned into rubble or have caved-in due to landslides.
Kerala Chief minister Pinarayi Vijayan had submitted a memorandum to Union Home Minister Rajnath Singh saying the state has suffered a loss of Rs 8,316 crore so far due to the floods.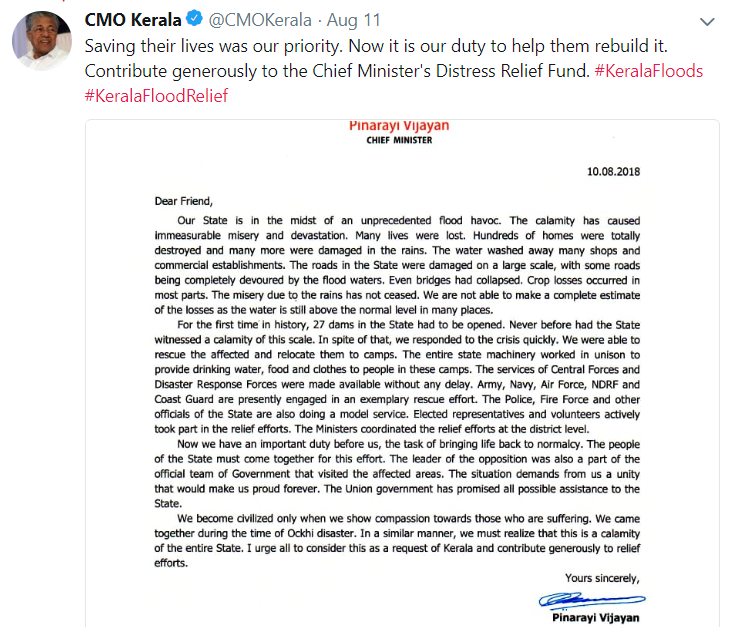 The massive deluge has also wrecked the state's travel and tourism industry and seriously impacted its plantation sector.
Over 60,000 people have been displaced by the disaster and the death toll in the last week alone, has risen further to 39, since the message was published.
With a strong message (given below), aptly titled #UniteForKerala, the supporters club from God's Own Country outlines the losses incurred in terms of lives lost and damage to property and urges fans to support the rehabilitation efforts spearheaded by the Government of Kerala with help from the centre's Ministry of Defence and Ministry of Home Affairs.  Currently the Madras Regiment of the Indian Army, along with personnel of Navy, Air Force and National Disaster Response Force are engaged in relief and rescue operations in badly-hit districts including Kozhikode, Idukki, Malappuram, Kannur and Wayanad.
Dearest Gooners,

As you well know, our state is witnessing its most severe disaster floods since the dawn of the 20th century. Heavy rainfall and landslides have taken a huge toll in terms of lives lost and damage to key infrastructure, farmlands, commercial property and homes throughout the state. As of August 13, 2018, the death toll has risen to 38, with estimated losses of over 8000 crore.

Our government and disaster management authority have done a commendable job in damage control and rehabilitation. Let's join our hands and help them rebuild Kerala.

Your contributions, however small, can help someone start life anew. You can either hand it to the authorised AKSC representatives or District Heads when you come for match screenings or deposit it directly to our account adding 'Towards Kerala Flood Relief' in the memo/comments section. Please find our account details below. Every single rupee contributed, will be donated to the Chief Minister's relief fund on behalf of Arsenal Kerala.

We thank every Gooner across the state for the support and encouragement they lend towards our charity initiatives and request that you continue your support by contributing towards and spreading the word about this noble cause.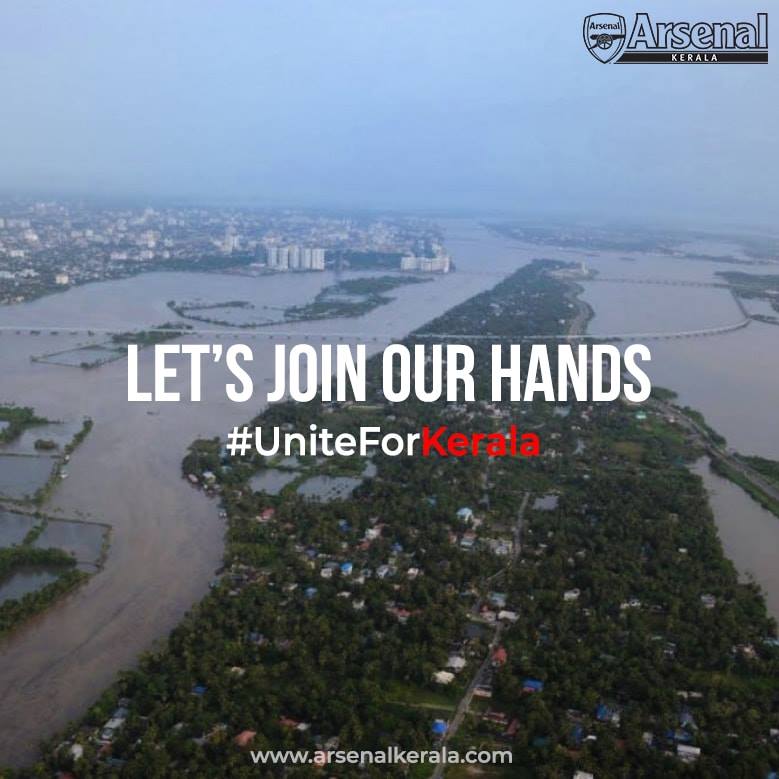 Fans can transfer their contributions directly to the account given below.
NAME – ARSENAL KERALA SUPPORTERS CLUB
ACCOUNT NUMBER – 396702010021983
UNION BANK OF INDIA
PANAMPILLY NAGAR BRANCH
COCHIN
IFSC Code: UBIN0539678