Who we are
AKSC or Arsenal Kerala Supporters Club is the home of Arsenal FC fans in Kerala, India.
The original Arsenal supporters club was founded in 1949. It was conceptualized as a place to meet before and after matches for all true Gooners.
Humbly following in the footsteps of the original club, Arsenal fans in Kerala envisioned AKSC in 2011, as a community of Gooners, for Gooners. The founding members shaped it to be a place for Gooners to work together towards the benefit of all Arsenal supporters in Kerala.
Since 2014, AKSC has developed and maintained a working relationship with the club and raised both the volume and quality of support for Arsenal FC in the state by organizing match screenings, football tournaments and welfare activities, many of which have been well reported by local and national media and helped raise the profile of the club within the country.
Over the years, our community continues to grow stronger in terms of the number of members joining our fold along with the number of activities coordinated every year. Members include the young and old, of both sexes, hailing from districts across the state. AKSC currently boasts over 3000 fans, including 650 plus registered members and has an active presence in all fourteen districts of Kerala.
The group was officially recognized by Arsenal FC in 2016 and continues to passionately support the club we love as well as strive for the betterment of football in Kerala.
Rules and Guidelines for Termination of membership
An official member of Arsenal Supporters Club Kerala, may have her/his membership terminated under the following terms and conditions. In case of such a termination, the concerned member is expected to return her/his Arsenal Supporters Club Kerala ID card (but s/he may choose to keep the other goodies received with the membership kit). No refund of membership fees shall be offered by the club under any circumstance.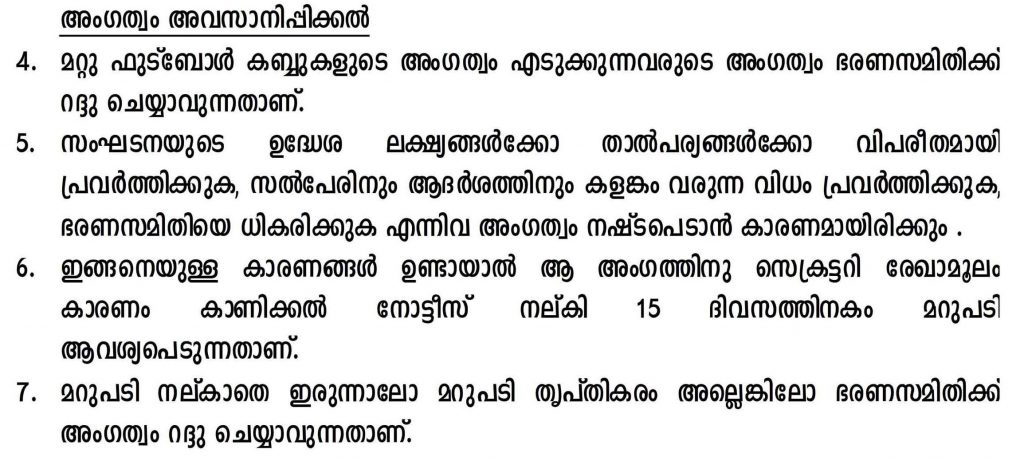 Guidelines for Termination of Membership
An official member of Arsenal Supporters Club Kerala may have her/his membership terminated :
If the concerned member applies for or becomes a member of another Football team(s)' supporters club(s). (The committee has taken the decision to exempt local clubs, i.e. football clubs based in India, from this rule.
If the concerned member acts against the interests or goals of Arsenal Kerala or brings disrepute to its name or activities in any manner or form or refuses to adhere to the decisions taken by the governing Committee.
In such circumstances, the Committee Secretary shall issue a show cause notice to the member concerned offering her/him a 15 day timeline within which to provide an explanation for her/his actions.
If the concerned member does not give an explanation within the time provided, or if the explanation is unsatisfactory, then the governing Committee reserves the right to cancel her/his membership with immediate effect.