by Alen Joseph
11th February 2017 – This date will forever have a new meaning in the history of Arsenal Kerala Supporters Club.
Ever since the Arsenal Fans Kerala group was formed in Facebook connecting Gooners from all around the state, our primary goal was official recognition from Arsenal. We reached that promised land last year. And this is the next historic step in our existence.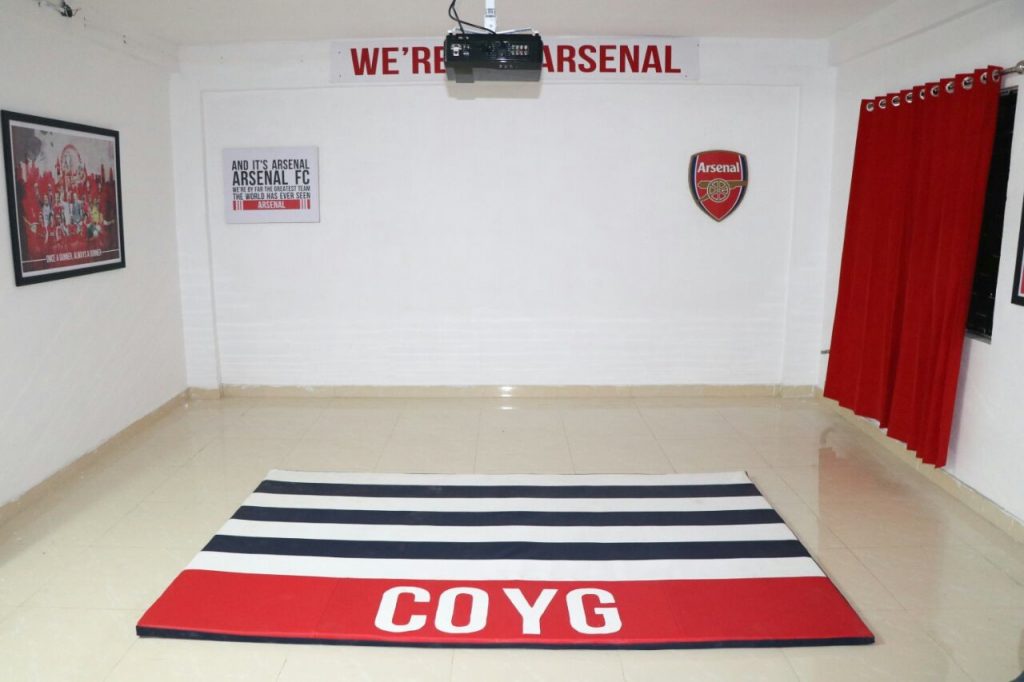 Yes, Arsenal Kerala has opened a dedicated facility for screening Arsenal matches exclusively, in Thrissur, the heart and cultural capital of God's own country. By virtue of votes cast, it has been named HIGHBURY.
HIGHBURY, THE NEW HOME OF ARSENAL KERALA.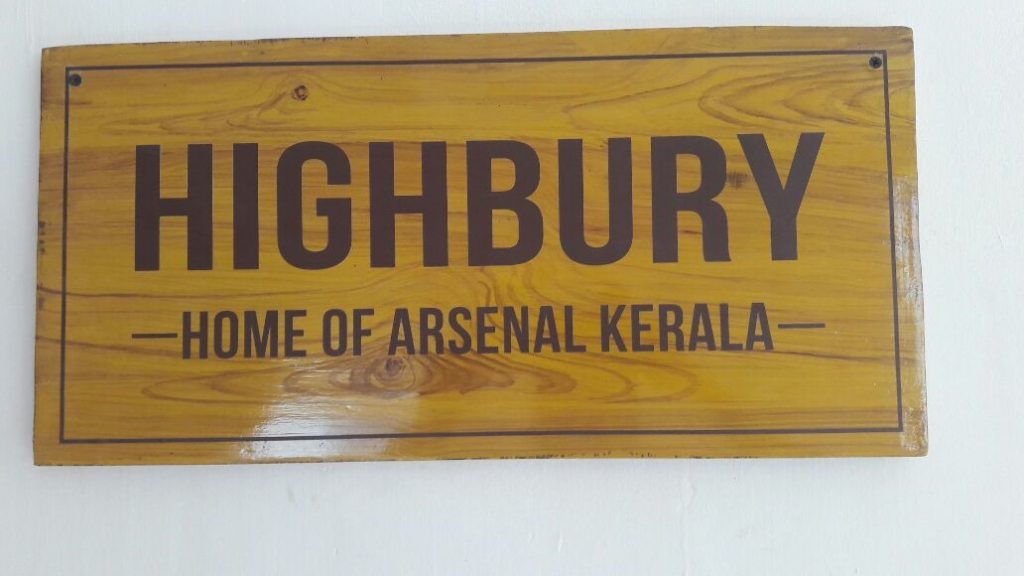 Organizing EPL match screenings is no easy task. District heads across the state work hard to find the best place to accommodate fans for each fixture, often having to negotiate and drive a hard bargain with cafes and restaurants.
Recently, Thrissur Gooners had suffered a setback when their usual venue for match screenings was made unavailable. And this forced them to look out for other options, most of which were expensive and unaffordable. It was during this crisis, that our fellow gooner Shaheer Hamza stretched his hands and took his fellow Gunners under his wings.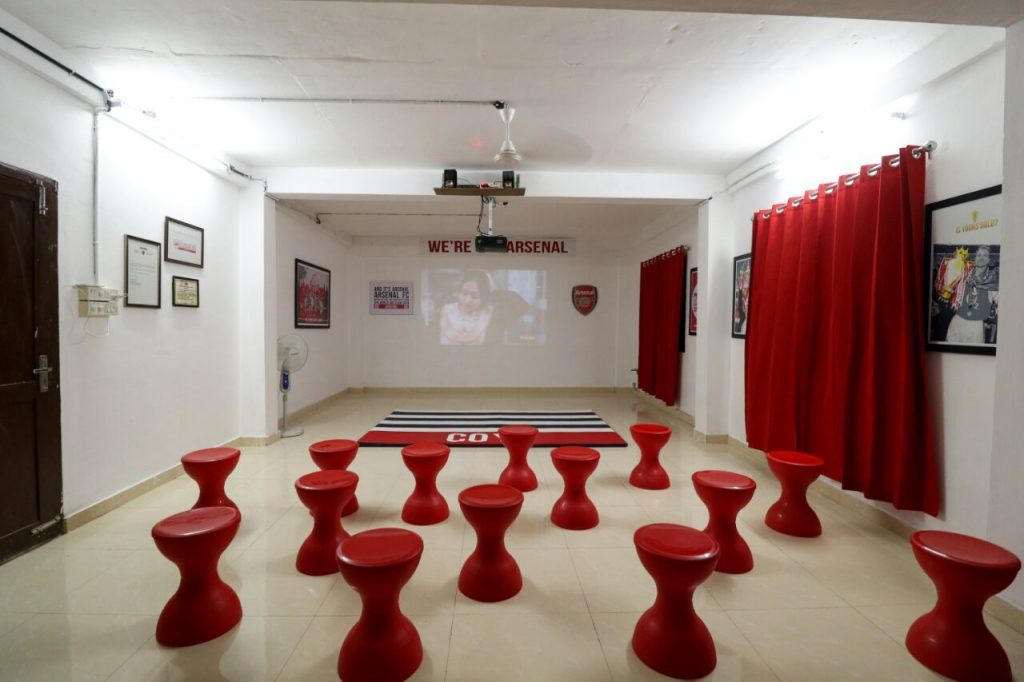 Shaheer Hamza, an established builder, donated one of his rental blocks for Arsenal Kerala. An act of virtue that cannot be measured in any capacity and a step of faith that would forever change the landscape of our future.
Arsenal Kerala will be forever indebted to his benevolence for 700sq feet of prime real estate, right in the heart of Thrissur town.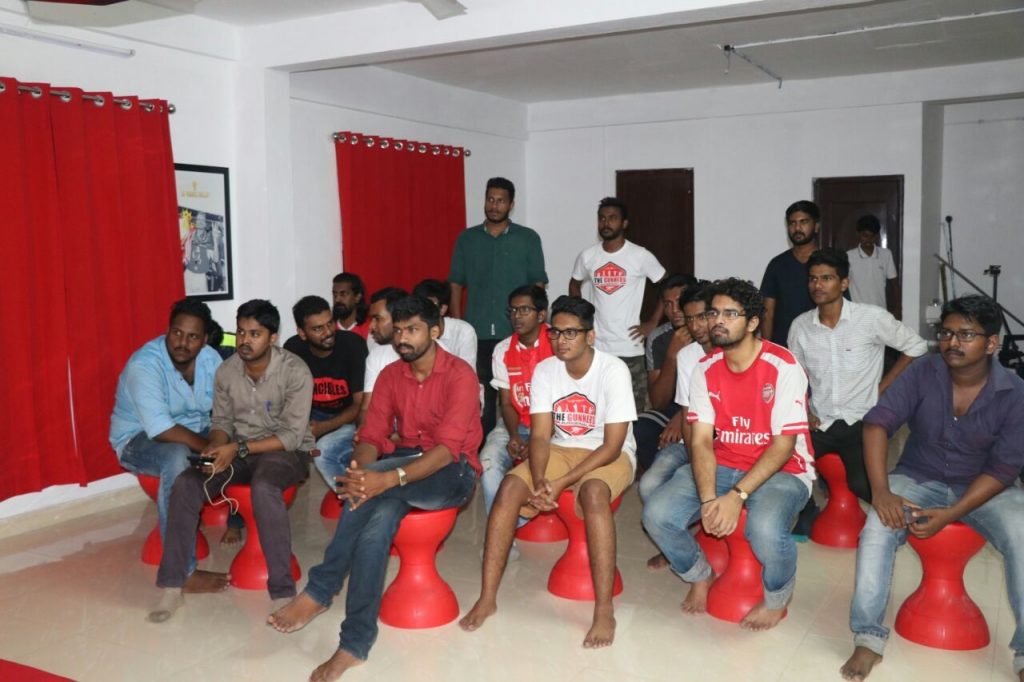 When the time came to make this beautiful dream a reality, Shaheer bhai along with other Thrissur gooners and Arsenal Kerala contributed further in procuring funds required to "Arsenalize" the space with  a projector, a few posters, banners and other official Arsenal merchandise.
The hard work of Thrissur Gooners deserves real praise as they toiled hard and laboured late into the night to breathe life into the space and make it home for hundreds of fans across the state.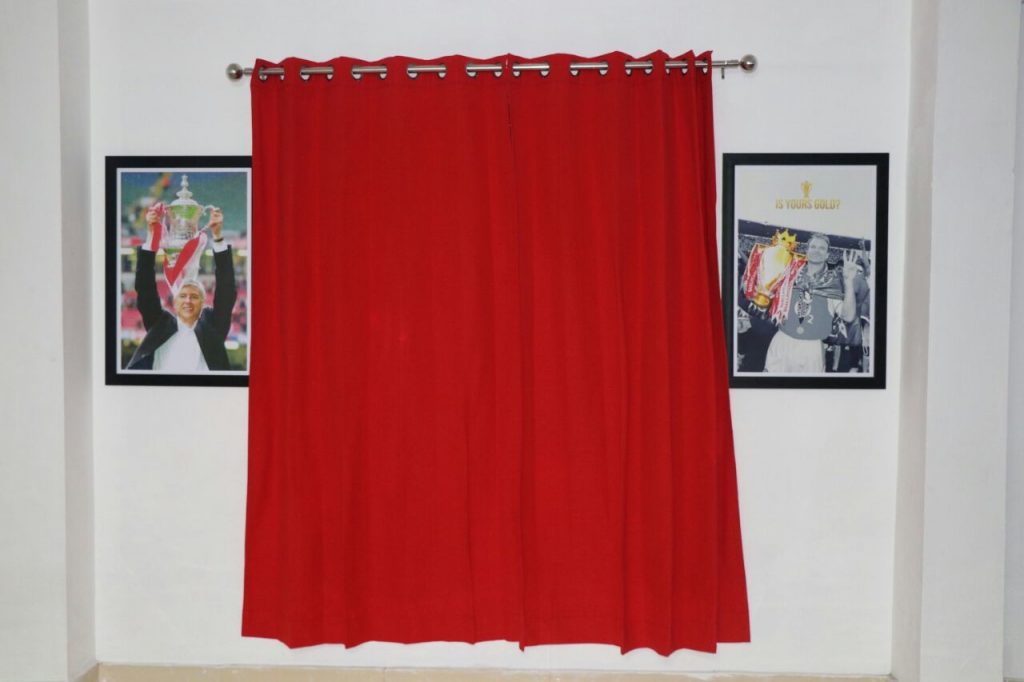 The contributions of Gunner Gremin, whose name is already familiar among the members of Arsenal Kerala deserves special mention. His splendid designs and creative posters now adorn the walls of Highbury, Thrissur.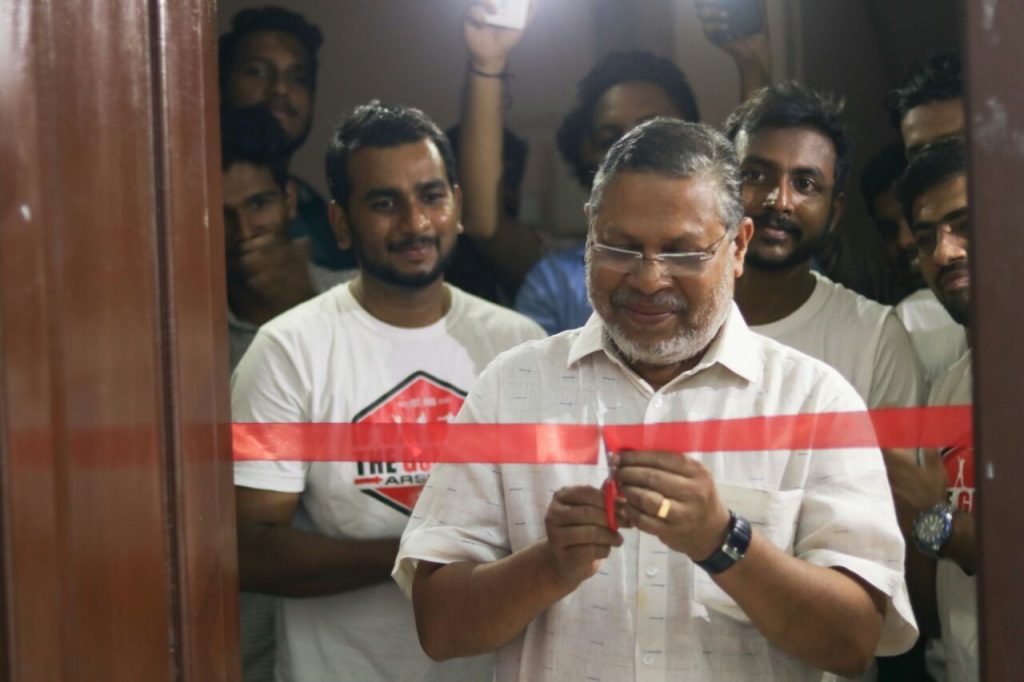 Highbury was officially inaugurated yesterday by Shree MP Surendran. A man whose credentials makes him the rightful man to kickoff this new chapter in our history.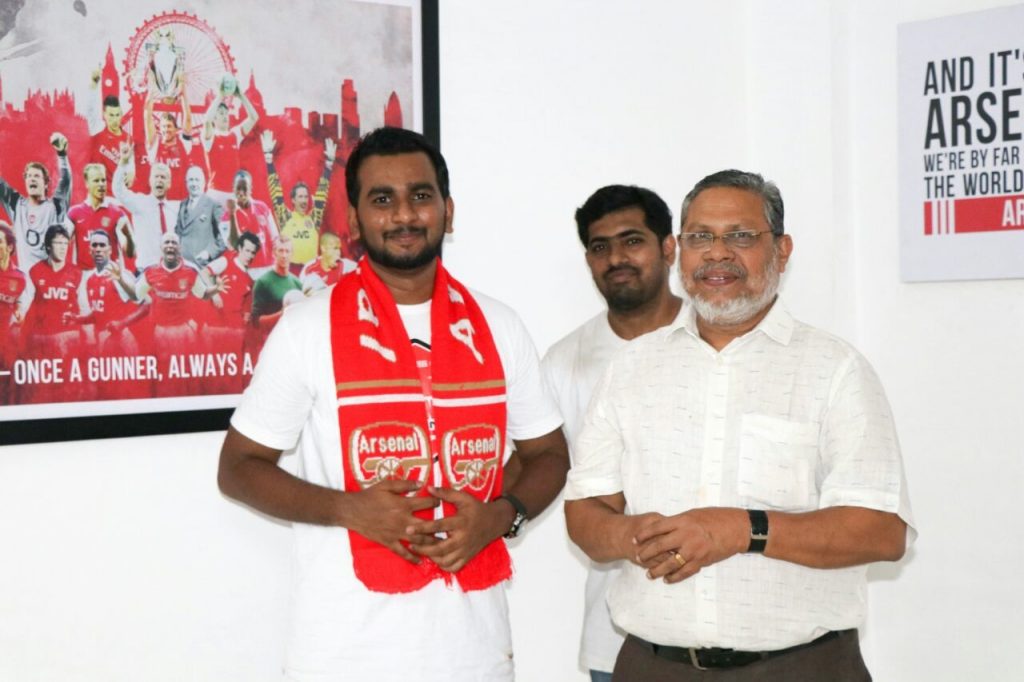 MP Surendran, is a sports journalist, critic and environmental activist. He was the deputy editor of Kerala's leading regional daily – Mathribhoomi's Thrissur bureau. His speech inauguration address will surely remain in the hearts of all those were present. He began with how Arsenal started from Woolwich, how Herbert Chapman revolutionized English Football if not Football in its entirety and finally concluded with why he admires the man Arsene Wenger is.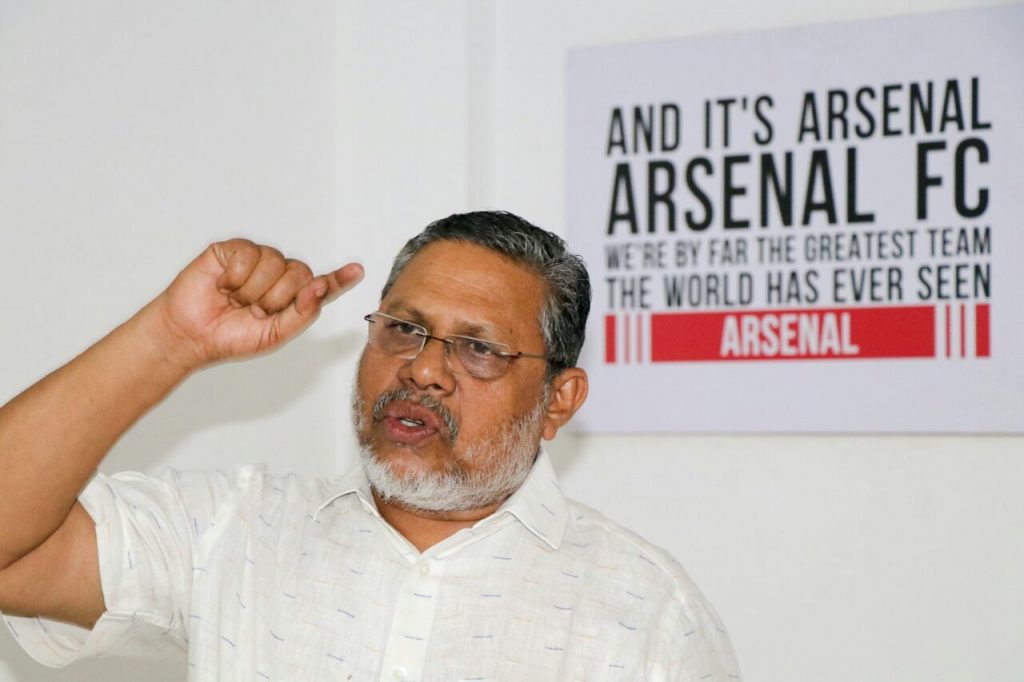 Arsenal Kerala Chairman Tony felicitated Shree MP Surendran and Shaheer Hamza at the inauguration. Arsenal Kerala Secretary Siva, who provided the leadership and vision for this grand endeavour, was also present at the function along with Treasurer Ajmal.
In the first ever match to be screened at the new venue, Arsenal overcame a resilient Hull City with two goals to put an end to their recent dip in form.
Highbury, a name synonymous with beautiful football, a glorious history and the unparalleled Arsenal Invincibles, will from henceforth also be a testament to the spirit and vision of fans from across Kerala and their passion for the beautiful game.
Onwards and Upwards. Up the Arsenal!